Rockwool-reinforced pre-insulated seamless steel pipes offer cutting-edge solutions designed to meet the demanding thermal insulation and structural integrity requirements in various industries. These pipes combine the strength and durability of seamless steel with the excellent insulation properties of rockwool insulation, for long-term reliability. A seamless steel tube at its core ensures robustness against external pressures for increased reliability over time. Rockwool insulation layer delivers an outstanding thermal performance, effectively minimising heat loss or gain while decreasing energy consumption. Furthermore, this insulation material is fire-resistant and offers sound absorption properties - creating a safe and enjoyable atmosphere in which to live and work. Geothermal designs reduce time and costs during construction by eliminating the need for additional insulation installation. Rockwool reinforced pipes find application in heating, ventilation and plumbing industries that prioritize thermal insulation for efficient performance as well as structural strength. Their reliability provides reliable energy savings while improving system performance to meet stringent industry standards.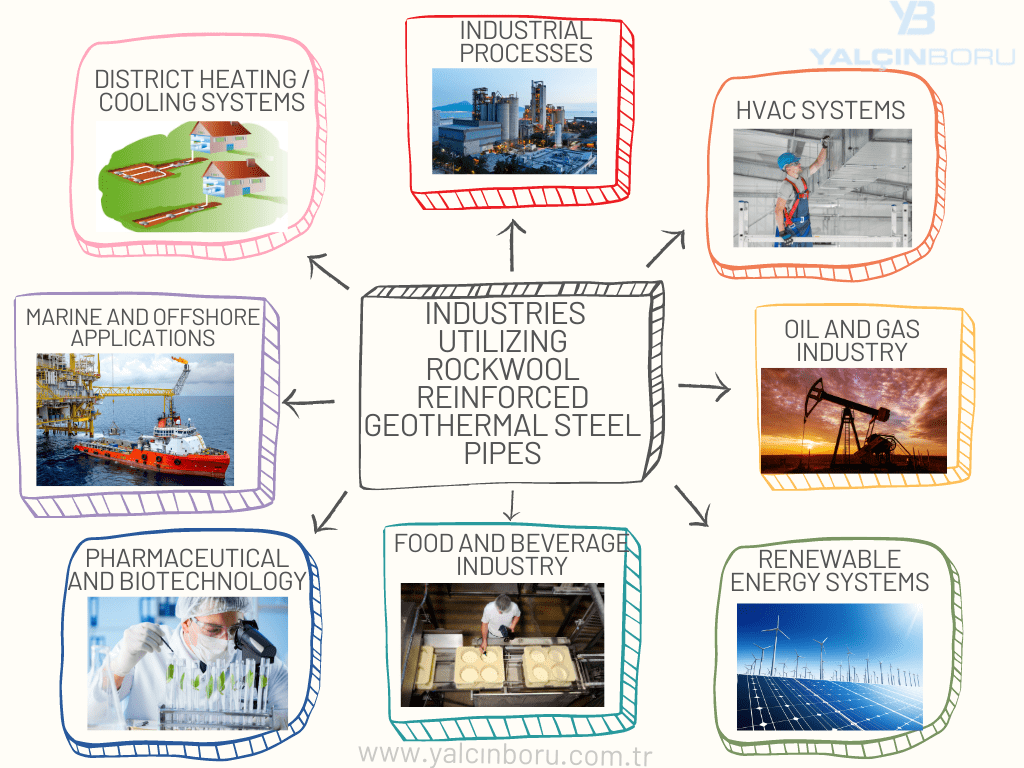 Rockwool reinforced seamless geothermal steel pipes are specially designed to offer optimum thermal insulation and structural strength and have multiple layers serving a specific function. At the core of each pipe is a seamless steel tube that offers excellent mechanical strength and resistance to external pressures, and rockwool insulation around the perimeter that acts as an effective thermal barrier. Made from natural stone fibres, rockwool insulation has superior heat and sound insulation properties, making it an ideal material for insulating pipes. The outer layer typically consists of a protective sheath of high-density polyethylene (HDPE). This provides protection against environmental elements, as well as the advantages of strength and durability to ensure its long-term viability. This multilayer geothermal pipe ensures that it remains well insulated, structurally sound and able to withstand various operating conditions, thus making it suitable for applications in industries such as heating, ventilation and plumbing.
Excellent thermal insulation properties, reducing heat loss or gain
Energy efficiency, leading to cost savings in heating and cooling systems
Sound absorption properties, creating a quieter environment
High strength and durability, withstanding high pressures and harsh conditions
Seamless steel construction, minimizing the risk of leaks or failures
Geothermal design, saving time and labor during installation
Fire-resistant properties, enhancing safety in the event of a fire
Corrosion resistance, extending the lifespan of the pipes
Reduced maintenance and repair needs, minimizing downtime and costs
Environmentally friendly, contributing to sustainable building practices
District heating and cooling systems: Rockwool-reinforced seamless Geothermal steel pipes are commonly used in district heating and cooling systems to efficiently transport hot or cold water from central energy sources to residential, commercial, and industrial buildings.
Industrial processes: These pipes find application in various industrial processes where thermal insulation and efficient fluid transportation are critical, such as chemical plants, power generation facilities, and manufacturing industries.
HVAC systems: Rockwool-reinforced seamless steel pipes are utilized in heating, ventilation, and air conditioning (HVAC) systems to ensure efficient and reliable distribution of heated or chilled fluids throughout buildings.
Oil and gas industry: These pipes are employed in the oil and gas sector to transport various fluids, including crude oil, natural gas, and refined petroleum products, due to their durability, corrosion resistance, and thermal insulation properties.
Renewable energy systems: Rockwool-reinforced seamless geothermal steel pipes play a vital role in renewable energy systems like geothermal heating and solar thermal installations, enabling the efficient transfer of heat or energy from the source to the desired application.
Cold storage and refrigeration: These pipes are used in cold storage facilities, refrigeration units, and freezer rooms to maintain consistent temperatures and minimize energy loss, ensuring the preservation of perishable goods.
Food and beverage industry: Rockwool-reinforced pre-insulated seamless steel pipes are employed in food and beverage processing plants to transport hot water, steam, and chilled fluids, ensuring precise temperature control and maintaining the quality of products.
Pharmaceutical and biotechnology sector: These pipes are utilized in pharmaceutical and biotechnology industries to transport critical fluids, such as purified water, WFI (water for injection), and process liquids while maintaining strict adherence to quality and cleanliness standards.
Marine and offshore applications: Rockwool-reinforced steel pipes are used in marines and offshore environments, such as offshore oil rigs and ships, for the efficient transfer of fluids, withstanding the corrosive effects of saltwater and extreme weather conditions.
Building construction and infrastructure: These pipes are incorporated into construction and infrastructure projects, including residential, commercial, and institutional buildings, providing reliable and efficient fluid transportation for heating, cooling, and plumbing systems.
Installation and assembly techniques for Rockwool-reinforced seamless geothermal steel pipes involve several key steps to ensure proper functionality and long-term performance. Firstly, the pipes need to be accurately measured and cut to the desired lengths. Next, the ends of the pipes are prepared by removing any burrs or rough edges. The joining method can vary based on the specific project requirements but typically involves welding, flange connections, or mechanical couplings.
Care must be taken to ensure proper alignment and a secure connection to prevent leakage. During installation, support brackets or hangers are used to provide structural support and maintain the desired positioning of the pipes. Additionally, proper insulation and sealing of joints and connections are essential to maintain thermal efficiency. Special attention should be given to areas where the pipes pass through walls or floors to ensure proper insulation and avoid potential heat loss or gain.
Finally, after installation, the system should be thoroughly inspected and tested to ensure its integrity and functionality. Following industry best practices and adhering to manufacturer guidelines is crucial to achieving a successful installation of rockwool reinforced pre-insulated seamless steel pipes.
Rockwool-reinforced seamless geothermal steel pipes possess exceptional thermal insulation properties, making them an ideal choice for applications where heat transfer control is crucial. The rockwool insulation layer within the pipes acts as a highly efficient barrier, effectively minimizing heat loss or gain. This insulation material is known for its high thermal resistance, low thermal conductivity, and excellent fire-resistant properties. By reducing heat transfer, these pipes help maintain desired temperatures within the fluid being transported, resulting in energy savings and improved system efficiency.
The Rockwool insulation also contributes to the prevention of condensation, as it limits the temperature differential between the fluid and the surrounding environment. This reduces the risk of corrosion and damage to the piping system. Whether it's in district heating networks, industrial processes, or HVAC systems, the thermal insulation properties of Rockwool-reinforced seamless steel pipes play a critical role in optimizing energy efficiency and ensuring reliable thermal performance.
Rockwool reinforced pre-insulated seamless steel pipes are renowned for their exceptional durability and longevity. The seamless steel construction of these pipes provides inherent strength and resistance to external pressures, ensuring their ability to withstand harsh operating conditions.
The steel material is corrosion-resistant, minimizing the risk of degradation over time and extending the lifespan of the pipes. Additionally, the Rockwool insulation layer offers protection to the steel surface, acting as a barrier against moisture and external elements. This insulation also enhances the overall structural integrity of the pipes. With proper installation and maintenance, rockwool-reinforced seamless steel pipes can serve for decades without significant degradation or performance issues.
This durability not only ensures long-term reliability but also reduces the need for frequent replacements or repairs, resulting in cost savings and reduced downtime. Industries and applications that demand robust and long-lasting piping solutions can rely on the durability and longevity of rockwool-reinforced pre-insulated seamless steel pipes.
Rockwool reinforced pre-insulated seamless steel pipes feature environmentally responsible features that contribute to sustainable practices. First off, their rockwool insulation is produced from natural stone fibers which reduce non-renewable resources use.
Rockwool insulation materials derived from fossil fuels may not be eco-friendly alternatives; Rockwool is widely known for being eco-friendly as it reduces waste generation through longer pipe lifespan and fewer replacement needs, thus decreasing waste generation. Rockwool insulation's thermal efficiency leads to energy savings, leading to decreased greenhouse gas emissions and carbon footprint.
Furthermore, its seamless steel construction ensures long-term sustainability and enhances sustainability even further. Effectively designed and installed rockwool-reinforced steel pipes contribute to energy-efficient systems, the conservation of resources, and an overall greener built environment. Their use falls in line with sustainable building practices that promote a more environmentally responsible future.
Maintaining rockwool-reinforced pipes requires following maintenance and repair guidelines in order to maximize their performance and lifespan. Regular inspection is advised to identify signs of damage such as leakage, corrosion or insulation degradation as soon as they emerge. Resolve issues quickly in order to avert further degradation.
When conducting maintenance or repairs, be sure to abide by manufacturer guidelines and industry best practices. If insulation needs to be repaired or replaced, make sure the new material fits into place seamlessly and meets both thermal and fire-retardant specifications. When replacing or repairing damaged sections of piping, take special care in sealing joints and connections to preserve thermal efficiency and avoid leaks.
If welding is required, employ skilled personnel with expertise in specific welding techniques for the pipe material. Consider also creating a preventive maintenance program, including routine cleaning, insulation inspections and performance reviews of Rockwool-reinforced pre-insulated seamless steel pipes over their operational lifetime. Following such guidelines will help ensure the continued reliability and efficiency of your system.
Rockwool-reinforced seamless geothermal steel pipes have proven their value and effectiveness in various real-world applications as evidenced by various case studies and success stories. District heating systems utilize pipes as part of their distribution infrastructure to efficiently distribute heat with minimum loss. They have become an integral component in many projects around the globe and ensure maximum heat distribution efficiency with minimum losses.
District heating projects in large urban areas often realize significant energy savings and reduced carbon emissions by employing rockwool-reinforced steel pipes that have Rockwool insulation for greater energy savings and decreased emissions. Chemical plants and refineries rely heavily on plastic pipes as reliable means for fluid transportation, with this type of pipe providing outstanding durability and resistance to corrosive substances ensuring efficient fluid transport.
Rockwool-reinforced seamless steel pipes have become indispensable components of geothermal heating installations, helping ensure maximum heat transfer efficiency from source to end-users. These success stories demonstrate the durability, efficiency, and long-term performance of rockwool-reinforced pre-insulated seamless steel pipes as an efficient thermal insulating and fluid transportation solution.
Nanotechnology Integration: Exploration of nanotechnology to enhance the performance of ROCKWOOL insulation in pipe systems, offering improved thermal resistance, moisture resistance, and durability.
Self-healing Properties: Research into self-healing capabilities of ROCKWOOL materials, allowing for automatic sealing of minor cracks or damage in pipe insulation, reducing the risk of energy loss and potential leaks.
Energy Storage Integration: Investigation of energy storage solutions within ROCKWOOL pipe systems, enabling the capture and storage of excess heat or cold for later use, optimizing energy efficiency and reducing reliance on external energy sources.
Intelligent Heat Distribution: Advancements in ROCKWOOL technology to enable intelligent heat distribution within pipe systems, directing heat flow based on demand, optimizing energy usage, and reducing operational costs.
Antimicrobial Properties: Development of ROCKWOOL materials with inherent antimicrobial properties to inhibit the growth of bacteria or mold in pipe systems, ensuring hygienic conditions and reducing the risk of contamination.
Robust Insulation for Extreme Environments: Innovation in ROCKWOOL technology to create insulation solutions that can withstand extreme temperatures, corrosive environments, or high-pressure conditions, expanding the range of applications in challenging industries.
Automation and Prefabrication: Implementation of automation and prefabrication techniques in the production of ROCKWOOL pipe systems, improving manufacturing efficiency, reducing human error, and enabling faster project completion.
Life Cycle Analysis and Environmental Certification: Focus on conducting life cycle assessments of ROCKWOOL pipe systems to evaluate their environmental impact at different stages, and obtaining environmental certifications to showcase their sustainability credentials, promoting wider adoption in environmentally conscious industries.